I tried searching the forums but didnt find anything on this topic, so yeah, I've reinstalled both skyrim and spm twice over, so it's probably not a nif file (probably), what can I do?
it happens when when I walk near some stendarr outpost. I was playing there before without nothing bad happening and then my game ctd, and then my game just wont start after that. I loaded back to and older save, tried to go the place where my game crashed and it just keeps crashing with the same error, even though it was completely fine before. I've extracted spm 4.3 multiple times over to ensure there's no corrupted files but the error still shows up.
So I don't anything, I had a game that was completely fine, as I was able to be in that area before, a savegame from that time and a reinstalled skyrim, but this error still shows up...
Also the archive is not corrupted, I've validated it with torrent.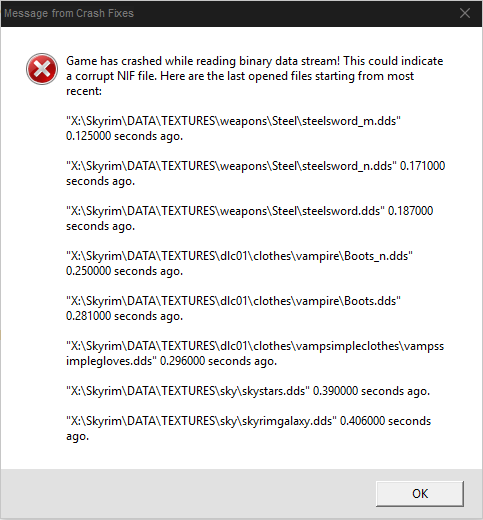 I have no idea what's happening, please help! 
Thanks in advance
update:
Somehow I managed to fix it:
1. I unplugged a drive where I stored spm
2. Changed drive letter where skyrim was installed and restarted computer
3. Changed it back, did a batched patch and skyproc patches and somehow I managed to reload a save where the crash did not happen
4. Did this because game crashed after I tried to save:
@RottenDub wrote:

•Delete all the .tmp and .bak
•Double load your game
•type "player.kill" in console
•Load and save you game
•type "coc riverwood"
•save your game
•Try going to markarth now 
My newer savegames do crash if I go to that area. The crashes started after I started "The way of the Nine" quest from 3dnpc (which is from Interesting NPC I think). I did however also have autosaving on travel turned on, and then game ctd'd when I tried to fast travel to
windhelm stables
, I think that area is bugged as I can't fast travel without ctd on any save.